The Bagleys - North Mountain Cattle Company
The Bagley Family is both a seedstock & a commercial herd operation -- meaning they raise high-quality genetics in bulls and heifers to sell to other farms to use in their herds, in addition to having a herd that directly enters the American food supply chain.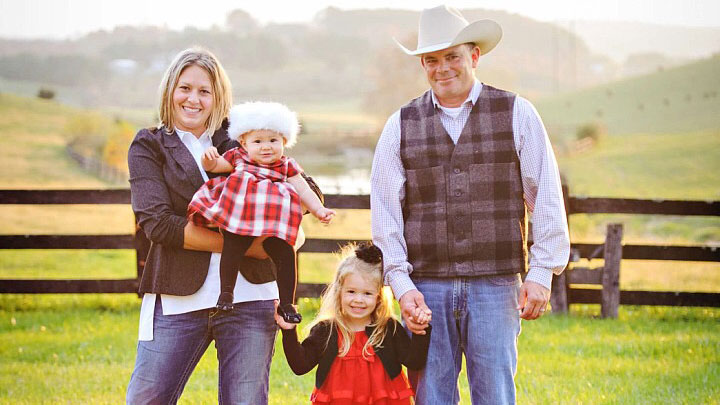 VBC: Tell us about your operation. Who runs it, what kind of cattle do you raise?
Allison: My husband Bobby and I run North Mountain Cattle Company (NMCC), which is a registered and commercial Angus operation of about 200 head located West of Staunton, VA. NMCC has provided replacement heifers and registered bulls to beef producers for over 15 years. We believe it is important for our customers who invest in NMCC Angus genetics to know the quality and science of the genetics they are purchasing. These genetics produce profitable results for our clients.
VBC: Tell me more about the commercial side of your business. Where do your cattle go after they leave your farm?
Allison: North Mountain Cattle leave the farm in several ways; Purebred bulls and replacement heifers are sold to producers throughout the Mid-Atlantic region. Five weight (500 lb) calves are sold to backgrounders locally, and some make their way to the mid-west into feedlots.
VBC: What is your favorite thing about raising beef?
Allison: Raising cattle is a lifestyle that we cherish. Being part of an industry where we are able to work beside and provide our friends and family with quality genetics is what makes being a cattlemen worthwhile. While raising cattle we are also able to teach our daughter about caring for livestock and the land.
VBC: Do you have a favorite chore, or even a least favorite?
Allison: The Bagley Family loves to check cows together each night on the ATV. Madison & Ellie practice 'counting cows' each night with their dad, to make sure all the cows and calves are accounted for and healthy.
VBC: What's your favorite way to enjoy beef?

Allison: We love to grill ribeyes, and we like to stir-fry. This beef stir-fry with green beans is one of our favorites! We also make a lot of meatballs. They are listed here as an appetizer, but for our little beef divas, it's a full meal!
VBC: What is one thing in particular you wish the public knew about farming, or about your operation in particular?
Allison: Cattlemen and women are experts at how to work, how to lead, how to laugh and how to keep the lights on. We understand that to run a business, you're always open – no matter what time of day. We all work hard to feed the world, to care for our livestock and the environment. That alone is our reward each and every day.
Meet Your (Little) Producers


Madison, our oldest, has helped on the farm since she was little tyke! In the Spring of 2015, we took this photo of Madison helping us get this 'kitchen calf' (when it was still cold and snowy outside), dried off and warmed up quick. He went back out to his mom later that night.