The Gilley Family - Heaven's Hollow Farm
Jacob and Jennifer Gilley of Orange, Virginia have a commercial Black Angus herd and have recently changed their business model to include selling beef directly to consumers. They love being part of the entire pasture to plate experience.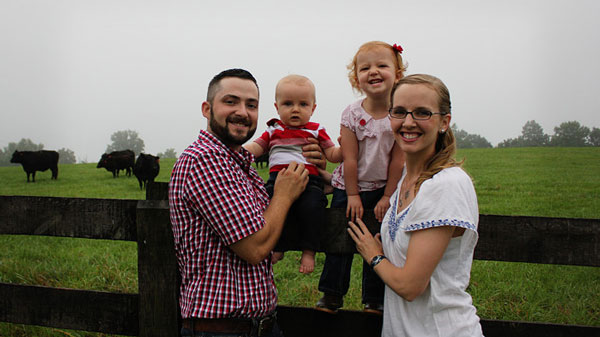 VBC: Describe your operation to us.
Jacob: Heaven's Hollow Farm has been in Jennifer's family since 1951 when her grandfather bought it. Her father, herself, and her 3 sisters have all been raised on the farm. Jennifer was raised as a beef girl - her dad is very involved in the beef industry.
I grew up on a small beef operation in Wolftown, VA where my parents were instrumentally helpful in the development of my herd. I met Jennifer in high school through showing cattle in 4H. We took different paths in college (I went to Virginia Tech and she attended University of Virginia), but we've reconnected and are now married with 2 kids (Nora Grace, 2.5 years old and Tucker, 8 mos.)
Our operation started with purebred cattle from the show world and transitioned to commercial cow-calf pairs. After some hardships in the commercial cattle business, we decided to go into direct marketing. In February of 2017, we sold our first beef directly to consumers. We considered selling at farmers' markets, but felt like they weren't the right fit because we need weekends to work on the farm. In my off-farm job, I'm a full-time field representative for CFC Farm and Home Center co-op.
Jennifer: We sell online and ship packages directly to customers. We also partner with nearby farms like Liberty Mills to offer a variety of products. Jacob runs most of the farm duties and I handle marketing and the meat end of things. We sell by the eighth, quarter, half, or whole beef, but we also offer sampler packs. These include popular cuts (high-end steaks or ground beef), but also some value-added cuts with recipes so our customers can broaden their horizons.
Jacob: Originally, we were not thinking about foodservice, but we had an opportunity to have our beef carried at Mad Local in Madison. They've been a great partner for us and they are a veteran-owned restaurant.
Jennifer: Jacob is a veteran of the National Guard and served for 7 years.
VBC: Tell us about your cattle.
Jacob: Right now, we have 34 cow calf pairs. We forage feed and grain finish. That means our cattle always have access to hay or pasture, but we feed grains as well. We buy ear corn from a local farm, and when they run out, we purchase a ground corn and barley mix. We try to graze as far into the winter as possible, and planting winter annual grasses has helped.
VBC: How many people work on your operation and who are they?
Jacob: We don't have any hired help. Jennifer was a full-time nurse and now stays home with the kids and runs meat and marketing while the production side is managed by myself.
VBC: Tell us a little about your family. Would you say you're very similar or different from the average American Family? Why or why not?
Jacob & Jennifer (in unison): No sleep!!
Jennifer: I was a full-time nurse (before I stayed home with the kids and took on the marketing role of the operation), which I feel like is a very "normal" American job. I think we're a pretty typical young couple with small children who find sleep and time is limited, and with struggling to find a work-life balance.
We both live close to our families, so we're very close-knit. It's a huge honor to be here on the farm, carrying on the tradition of everything. Any time we're overwhelmed, we walk around and remind ourselves of how it's all worth it. I like to think of how many of my family members have slept in these rooms, the doors they opened for us, etc. We're in the house I was raised in, which is the same house my father was raised in. It's so powerful to carry that on with our own children.
VBC: What is your favorite thing about raising beef? Do you have a least-favorite part?
Jacob: Our favorite thing is getting feedback from customers. In the past, we put work into genetics and cows and calves, and we sold them at an auction, and it's hard to get direct feedback on each individual animal once they leave your herd. So that's the biggest benefit of direct marketing: we get to hear what people think of the eating experience, and how that reflects on all of our hard work and care.
Jennifer: Our least favorite thing is doing a lot of things in the dark after the kids go to bed. Trying to do things by barn lights isn't fun. A lot of people don't understand how much work it really is, or how unpredictable it can be. Being very flexible and able to adapt, and not stressing out is important. Just go one step at a time.
VBC: What is your favorite way to enjoy beef?
Jacob: Filets that you can cut with a fork, now that's great! But I'd say we use ground beef the most.
Jennifer: We use what we have for dinner. I make sauce from the garden, and we use our ground beef. Or sometimes I prepare a roast, cooked pretty plainly, and portioned out for many meals. Without a lot of seasoning up front, we can eat it as a roast once, eat it as a BBQ once, or shred and eat tacos once to keep leftovers exciting. We try to repurpose our meat and leftovers. We eat lots of spaghetti, and we often eat breakfast-for-dinner.
VBC: What is one thing you wish the public knew about farming or about your operation in particular?
Jennifer: One thing we've tried to stay away from is "labeling". We see a lot of people moving towards confusing labeling claims that use a lot of scare tactics. We don't see anything wrong with conventional beef. It's important for all of us to take care of the animals, treat animals that are sick and be responsible, no matter what production type you're in. But we don't think we need to be disparaging to other types. I don't want to take our direct marketing and downplay what traditional farmers are doing, because what they are doing can be right and wholesome also.