The Snapps - West Oak Farm
[MacKenzie Moore]
As I pulled down the long road to West Oaks Farm, I could see the orchards, and rolling fields where the row crops, fruit and vegetables are grown. I was happily greeted by Ben Snapp, the oldest son of the owner of the operation. Soon after, owner Joe Snapp started towards me and invited me to his truck where he took me to the cattle fields. As we drove through the farm I could see the sense of pride on Joe's face. This pride was reassured when Joe began talking with me about the operation and the cattle he raises.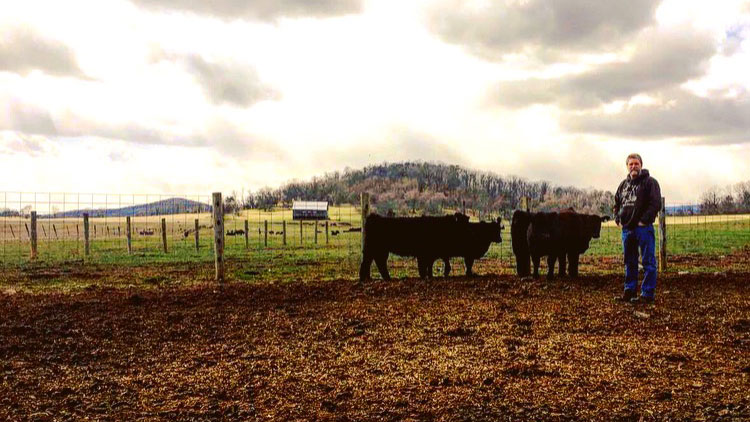 VBC: Tell me a little about yourself and your operation.
Joe: My wife and I have three children and we are very active in our local church. We have two sons (Ben and Levi) and a daughter (Tessa). Our children are the 10th generation on our family farm, which dates back to the 1750's. We're very proud to say that we have the original paperwork from the purchase of the farm and that it has been in our family for so many years. Our operation is diverse - we raise cattle, grain crops, orchards, and grow vegetables. My oldest son, Ben, works for our farm full time, along with a few other family members. The rest of the work crew on our farm are contracted through the H2A program. Beef production is what I do because it is in my blood. I'm the 9th generation farmer on our family's farm: My dad was a farmer before I was on this land, raising cattle and the orchard, so I kept on after his footsteps to ensure the family farm stayed successful. It has been such a blessing to watch our children grow up and want to come back to our operation. Being able to work along-side them, and seeing them take a leadership role and want more responsibility so they can have an impact on our operation and the whole industry is really something.
VBC: That's an impressive story! In addition to the family history, what else is unique about your operation?
Joe: I think it's unique that we are diversified in our production. Over the years, this has been a benefit to us to be involved in many aspects of the industry. We have a cow/calf operation, where our cattle are backgrounded to become feeder calves and the meat is sold at our local farmers market. We also raise row crops and a few vegetables along with the orchard.
VBC: With so much diversity, do you rely on technology?
Joe: Even a cell phone is considered technology to me. There have been times when I had to be gone for meetings, and my sons were able to video our cattle to send to me so I could be in contact with our cattle buyers. Technology and the internet have given us many opportunities to be more successful in marketing and selling our cattle.
VBC: How do you ensure you are raising safe beef for consumers?
Joe: I would definitely say education. Education is something we seek, and we take advantage of any local meetings and extension programs to keep up with new trends and information. Networking is also something we are heavily involved in - we enjoy seeing how other producers are raising their cattle and developing herd health management plans. Networking also allows us to discuss and work together to ensure our area and state beef producers are in fact raising safe beef that not only do we sell to consumers, but that we feed to our own family.
VBC: What's your favorite way to enjoy beef as a family?
Joe: A Delmonico steak is my favorite cut of beef. I enjoyed this cooked on the grill, with little seasoning!
VBC: How does sustainability fit into your farm?
Joe: To me, sustainability means being able to cover all of our costs, and staying progressive at the same time. Having a good environment for all our employees to keep them coming back each year and wanting to be part of this operation for years to come. Our main sustainability goal is to make sure our farm continues to be successful to allow both our boys to come back and take over the operation one day. There isn't a typical day on the farm -- having a cow-calf operation means something new is always coming up and we are excited to see our boys come back to the farm to start their careers.
VBC: There may not be a typical day, but is there one word that sums up the life of a beef producer?
Joe: Optimistic. Each year we always hope for the markets to be a little better. We always have to keep a mindset that allows us to be optimistic about where the year will go and what our profits will look like.